You have your design and you are ready to put it on something. You have chosen your supplier and you want to add your design to a print on demand product.
Each of the Print on Demand suppliers will have some sort of software to replicate a blank product and you can go and use this free of charge to produce a picture of your intended product and a sales page to sell it from.
This is a walk through of the Teespring product creation software. In the first picture below I have already chosen the product type on the previous page and gone for t shirts. There is a choice of several types of product to sell. On this page you need to put something on the shirt. You have the choice of using their text editor and just type a good slogan or use their stock images or upload artwork of your own. In this picture I have created the artwork myself and uploaded from my computer. You can see the software gives you a print area and you must have a design that stays within those parameters. The software will tell you if it doesn't like something about your artwork. If you have a transparent background and the size is ok then you are usually good to continue. The image being nicely defined is also important. You get the choice of several colors for your main image but get the opportunity to offer the design in however many colors you like still within the one sales page. You will find that designs show up better on some colors better than others. You may need two sets of artwork if you want to use the design on both dark and light colors.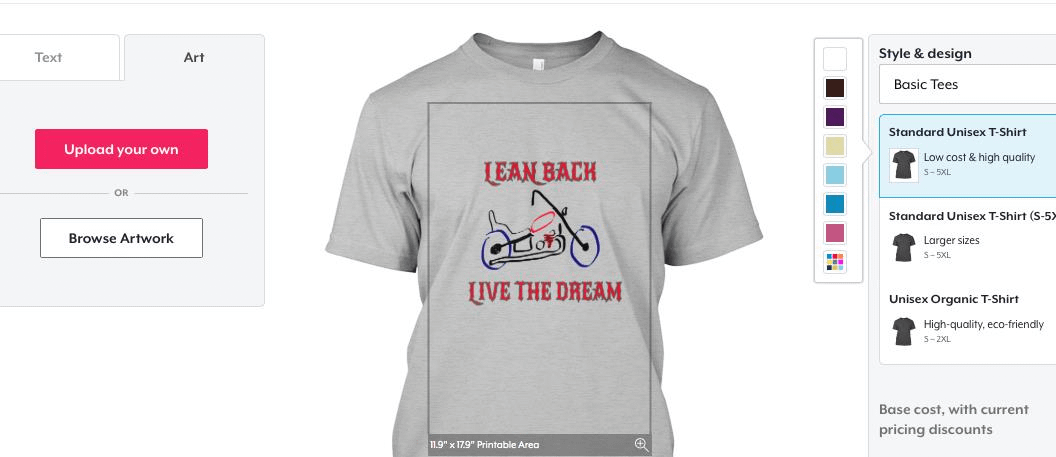 On the next page the software asks you to set a sales target. It gives you a projected profit on the figure you give as a target. I have included 2 pictures of this page below so that you can see how it works. The first image is for a tiny target of 3 which returns you $29 profit and the second is for a target of 20 which returns $195 profit. This is useful if you are considering spending money on advertising. You can weigh up whether you want to spend or what you can afford to spend to bring people to your page. The good news is even if you only sell one they will print it for you.
On the next page you give your product a title and description. You can use some relatable copy and try to gently persuade people to push the buy button. It isn't quite in shot in the picture below but you can choose your own unique sales page url at the bottom of the page.
Once this page has been filled in the software has all the information it needs to create your sales page. You click Launch Campaign and you get your very own sales page just like the one below.
That was not so hard now was it? Now you have to get people to look at the page and convert them into buyers. You will need to work and this bit and learn what works and what doesn't in your niche.
Don't give up if you don't get a winner straight away. There is a learning curve like any other business. This is a great business model once you have mastered it.