Placeit: Create Mockups, Logos, Videos & Designs In Seconds!
Placeit: Download Unlimited Mockups with One Subscription
Placeit: Make Thousands of Incredible Mockups Right in Your Browser
No matter what you want to sell or promote
Promote your latest designs with t-shirt mockups, get more app downloads with iPhone mockups, or reach the bestsellers list with book mockups. Placeit has exactly the mockups you need.
Captivating Apparel Mockups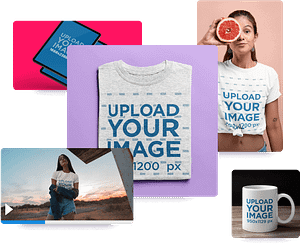 Whether you're a t-shirt seller or have a clothing brand, Placeit has thousands of professional apparel mockups covering t-shirts, hoodies, hats, leggings and much much more. Each mockup is carefully crafted to make sure your designs look incredible.
T-Shirt Mockups
Easily create thousands of unique t-shirt mockups to promote your latest designs. Upload your image and choose the color of the t-shirt. With hundreds of different styles and models, Placeit has the perfect mockups to promote all your designs.
Hoodie Mockups
Hoodie mockups let you easily expand your offering. Promote your designs year-round with slick mockups that will entice buyers. Tags make it easy to find exactly the mockups you're looking for, no matter what style you need.
Tank Top Mockups
Tank top mockups are a great way to promote your designs during the summer months. Placeit's mockups feature colorful settings and dynamic poses that help your creations stand out and look amazing.
We're Just Scratching the Surface​
Placeit has hundreds of other apparel mockups for you to promote and sell all your items with the highest-quality images available.
Get Unlimited Access to all Logos, Design Templates, and Videos!
No more offers for this product!
General Inquiries
There are no inquiries yet.
Placeit: Create Mockups, Logos, Videos & Designs In Seconds!